O & S Precision Incorporated is a full service CNC manufacturing facility
O & S Precision has been providing excellent service to all of our customers for over 35 years. We operate a state of the art manufacturing facility in Chatsworth, CA.
Using Lean Manufacturing, we are able to deliver the highest quality product at the most cost-effective pricing.
We are a certified AS9100D and ITAR company.
With decades of experience, we have provided solutions for the following industries: aerospace, medical, computer, consumer products, industrial, and solar.
We strive to provide the best customer service. Our approach from your concept to completion merges the project requirements of the customer with the experience and ingenuity of O&S Precision.

PRI Registrar is a quality systems registrar accredited by the ANSI-ASQ National Accreditation Board (ANAB).
AS9100 is an aerospace standard based on the ISO 9001 quality system requirements. AS9100 takes the ISO 9001 requirements and supplements them with additional quality system requirements, which are established by the aerospace industry in order to satisfy DOD, NASA and FAA quality requirements. The intent of AS9100 is to establish a single quality management system for use within the aerospace industry.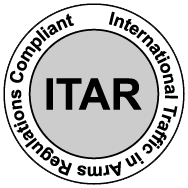 International Traffic in Arms Regulations (ITAR) is a set of United States government regulations that control the export and import of defense-related articles and services on the United States Munitions List. These regulations implement the provisions of the Arms Export Control Act, and are described in Title 22 (Foreign Relations), Chapter I (Department of State), Subchapter M of the Code of Federal Regulations. The Department of State interprets and enforces ITAR. Its goal is to safeguard US national security and further US foreign policy objectives.
INTELLIGENCE
Using our own custom ERP software solution allows O&S to successfully manage the entire manufacturing process with real-time data. Combine this data with exceptional customer service from our dedicated team of account managers and you will always be aware of the status of your order.
CAPABILITIES
Multi-Axis Palletized CNC Machining
Specialize in complex machined parts
Engineering Support
Sub-Assembly & Testing
Materials: Aluminum, Steel, Stainless, and Titanium
Bar Stock, plate stock, castings and forgings
JOIN OUR TEAM
O&S is looking for talented, hard- working people who want to work on cutting-edge projects. O&S Precision offers not only a clean and safe working environment, but great benefits as well: medical, dental, paid-vacation and bonus opportunities.
Apply online now. We look forward to working with you.